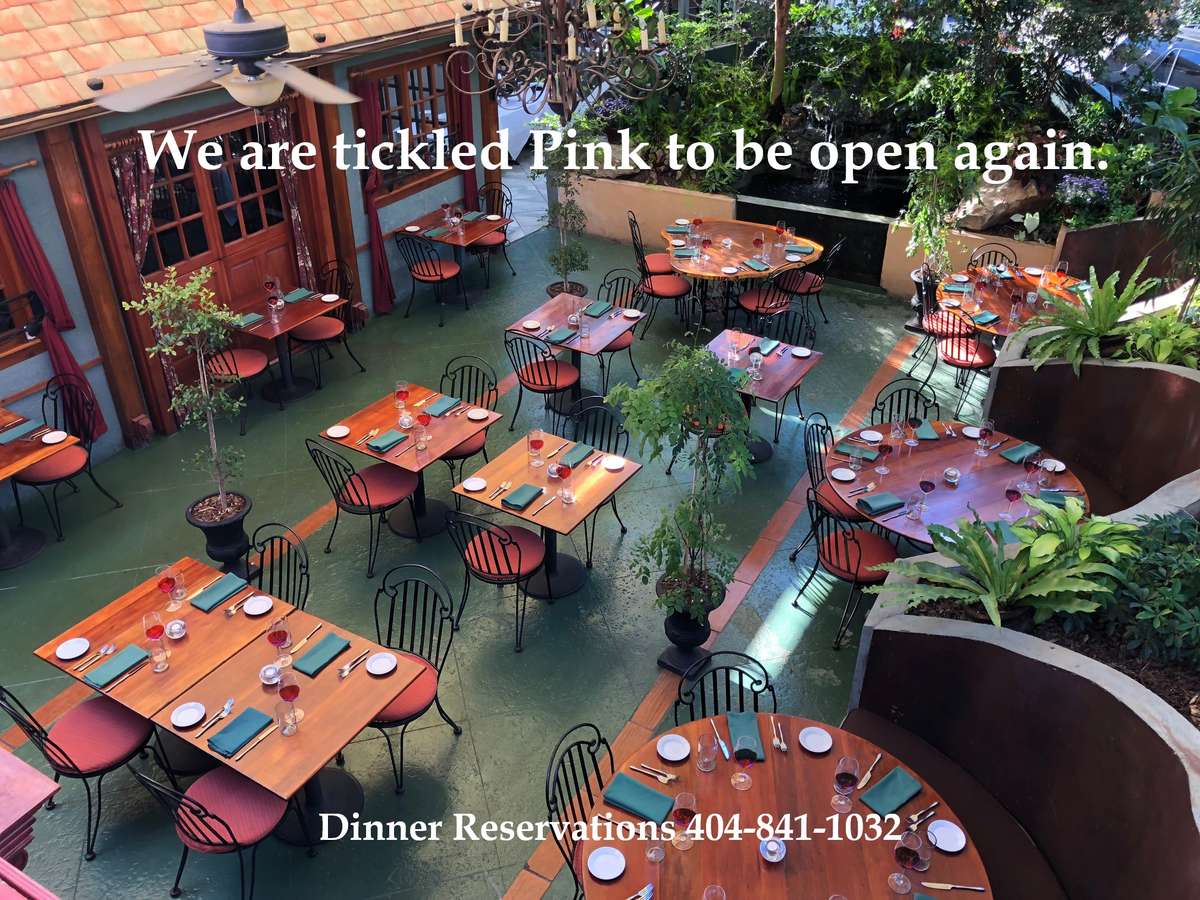 Chef Z's wine List
Sign Up and Know What's Cooking!
Sign up here and be the first to see Chef Zeran's nightly specials-- cooking which has won him AAA's prestigious 4-Diamond Award.
Chef Z's Wine List
Picking a new wine is like going on a blind date...
"Exciting, intimidating, with a little fear of the unknown. Wouldn't it be comforting to know a little about what your date will be like? The same with choosing a wine you've never tasted. I've tried to take some of the fear of commitment out of your new wine "date" by providing a flavor profile of these wines so even if you're not familiar with them, you can compare them to flavors you like in wine. I've also added the opinions of some of the country's preeminent wine experts to give you more confidence in your choice. So be adventorous. Try something new. It might end in a long term relationship with a new favorite wine. Enjoy."

- Chef Charles Zeran, (and Sometimes Wine Guy)
White Wines
SPARKLING
106 Roederer Estate Brut Rose (Anderson Valley, CA) RP93 $11/$48
This wine exudes class. Displays a combination of berry fruits, toast,
and yeasty notes. Wonderful creamy texture
107 Jansz Premium Cuvée Sparkling (Tasmania) WE93 $38
Mostly fruit driven--lemon, apple and pear—with brioche notes serving as a backdrop. Steely acidity and bright finish. Tasmania? Yes, Tasmania.
CHARDONNAY
610 2018 El Enemigo Chardonnay (Mendoza, Argentina) JS97 $40
Rock-star chardonnay with a dense palate of beautiful, ripe lemons and apples. Complex yeast. Full body. Subtle notes of buttery oak. Long.
611 2019 Chalone Estate Grown Chardonnay (Central Coast, CA) WE93 $34
Nuances of stone fruit, wet rock, and a hint of oak. This Burgundian style Chardonnay boasts exceptional complexity.
612 2019 Tiefenbrunner Trentino-Alto Adige Chardonnay (Italy) JS93 $11/$39
Aromas and flavors of citrus and fresh pears, with herbal and almond notes. Clean crisp acidity and a lingering finish.
SAUVIGNON BLANC AND BLENDS
207 2019 Lapostolle Grand Selection Sauvignon Blanc (Chile) JS92 $9/$29
Dried apples and peaches. Medium to full body, crisp finish.
208 2020 Nautilus Sauvignon Blanc (Marlborough, NZ) JS92 $28
Classic Sauvignon flavors of gooseberry, passion fruit, pineapple, and grapefruit with balanced acidity and a dry finish.
WHITE RHONE VARIETALS AND BLENDS
504 2020 D'arenberg Hermit Crab Viognier Marsanne (Australia) JS93 $29
Orange and citrus blossom bouquet with green papaya, pineapple, ginger, and grapefruit notes. Very refreshing.
505 2016 Rotie Cellars Southern White Rhone Blend (Washington) RP 93 $49
A fresh and subtle white with cream, mango, and kiwi aromas and flavors. Medium-bodied, crisp and clean.
506 2017 Domaine Tournon Mathilda Rhone White (Australia) WE92 $25
Aromas of grilled peaches, with a creamy texture and crunchy acidity.
508 2016 Epiphany Grenache Blanc (Santa Barbara, CA) WE91 $40
Aromas of apple and wet stone with lime and green pear flavors.
OTHER WHITES
509 2019 La Cana Albarino (Rias Baixas, Spain) JD91 $33
Honeyed citrus, salty mineral, and apple blossom. Medium-bodied. Dry.
507 2019 Beronia Verdejo (Rueda, Spain) JS92 $28
Dried apple, lemon curd. Full-bodied layered finish with a savory note.
510 2020 Argiolas Costamolino Vermentino (Italy) JS92 $28
Wet stone, lemon zest, dried apple, and citrus. Medium bodied.
WHITE WINES BY THE GLASS
Roederer Estate Brut Rose Sparkiling (Anderson Valley, CA) RP93 $11
2019 Tiefenbrunner Trentino-Alto Adige Chardonnay (Italy) JS93 $11
2019 Lapostolle Grand Selection Sauvignon Blanc (Chile) JS92 $9
Red Wines
PINOT NOIR
710 2019 Clos Henri Pinot Noir Petit Clos (New Zealand) WE94 JS92 $34
Spicy with red cherry aromas with violets, blueberry and cherry flavors.
711 2018 Golden West Pinot Noir (Columbia Valley, WA) JS93 $35
Black cherries, dried strawberry, chocolate, forest floor, autumn leaves and spice. Classic Burgundian style.
712 2018 Veramonte Pinot Noir (Casablanca Valley, Chile) JS93 $9/$29
Bright blueberry, cherry, and spice. Finishes with smooth, fleshy tannins.
CABERNET SAUVIGNON
913 2018 Dusted Valley Boomtown Cabernet (Washington) JS93 $36
Black currants, dark chocolate, hazelnuts, medium bodied, smooth finish.
914 2018 Paul Dolan Cabernet Sauvignon (Mendocino County, CA) WE93 $37
Showing deep fruit, tobacco and leather flavors. Full-bodied and complex. Organic.
915 2018 Two Hands Sexy Beast Cabernet Sauvignon (Australia) RP93 $48
Ripe black currant, blueberry, earth, and chocolate. Plush tannins.
916 2019 Four Vines "The Kinker" Cabernet (Paso Robles) WE93 $10/$36
Plum and blackberry flavors, with notes of roasted meat and black olive.
917 2018 Don Melchor Cabernet Puente Alto Vineyard (Chile) JS100 $170
Amazing. The complexity is breathtaking with flowers, black currants, raspberries and peaches. Full-bodied, refined, and polished. Forever finish. An unheard of perfect score rating from James Suckling.
OTHER BORDEAUX VARIETALS AND BLENDS
920 2017 Norton Privada (Mendoza, Argentina) JS95 $44
Smoky aromas and flavors of cassis and spice. Velvet tannins. Serious stuff
922 2016 The Paring (Santa Rita Hills, California) JD93 $55
Brilliant notes of cassis, tobacco leaf, damp earth, cedar, and graphite.
923 2017 Catena Tinto Historico Red Blend (Mendoza, Argentina) JS94 $38
Plenty of malbec violet character, with delicate spices and great freshness.
RED RHONE VARIETALS AND BLENDS
1308 2018 Tenet Wines Pundit Syrah (Washington) JD92 $11/$37
Gorgeous blackberry and raspberry with notes of peppery herbs and spices. A dark inky syrah with great fruit and tannins like silk. Chef's go to everyday red.
1309 2018 K Vintners Motor City Kitty Syrah (Columbia Valley, WA) JS98 $60
Just delicious. Red currant, mint, tobacco, chocolate, gamey nuances. Full-bodied.
1310 2018 Yalumba Samuel's Collection Bush Vine Grenache (Australia) JS93 $34
Vibrant raspberries, cherries and plums flood the nose and palate.
1311 2017 Big Basin Homestead Red Rhone Blend (Central Coast, CA) JS94 $57
A lighter style with of notes of red currant, roasted cherry and fennel pollen.
1313 2018 Complicated Red Wine (Monterrey County, CA) WE93 $30
This Rhone blend has flavors of boysenberry, lavender and violet with a spicy hint of white pepper and fresh currant.
1314 2017 Shafer Vineyards Relentless (Napa Valley) JD94 WS94 $130
Deep and powerful with wild berry and blueberries and notes of espresso, smoky beef, and black pepper. Finishes with big but refined tannins. Syrah and Petit Sirah.
OTHER REDS
1206 2017 Numanthia Termes Tinta de Toro Tempranillo (Spain) JS94 $56
Ripe and balanced, with chewy tannins and a dense, fruity center palate.
1207 2009 Bodegas Faustino I Rioja Gran Reserva (Spain) WE93 $60
Vanilla, spice, tobacco, and dried berry fruits. Medium-to full-bodied.
RED WINES BY THE GLASS
2018 Veramonte Pinot Noir (Casablanca Valley, Chile) JS93 $9
2019 Four Vines "The Kinker" Cabernet (Paso Robles) WE93 $10
2018 Tenet Wines Pundit Syrah (Washington) JD92 $11
Chef Charles Zeran has been the sommelier at many restaurants, and has earned numerous Wine Spectator and Wine Enthusiast awards. He focused his selections predominantly on New World wines, with an eye towards very "bang for your buck" wines. Selections in bold face are some of Chef's particular favorites.