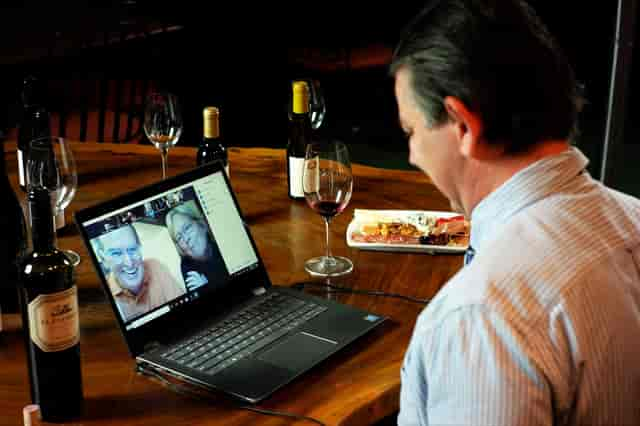 Social Distance Wine Tasting
Friends Taste Virtually with Terra Terroir
You're Invited to a Wine Tasting!
How can this not be fun? An evening of wine tasting—or even a dinner—with friends or co workers with Terra Terroir's Zoom wine tastings. Whether it's just the two of you—or friends across town—or coworkers across the metro area—Terra Terroir has done it all time and again.
'We had an evening we will never forget. Very organized, on time and great wines. Chris really know his material"

- Sandy Waters, Duluth
"Our entire company of 44 joined in a wine tasting by Chris. It was extraordinarily well organized and done. We enjoyed meeting online like we never have before and buoyed our spirit sin more ways than one."

- Courtney
"It is amazing how well this works...Terra Terroir has got this down pat."

- Paul Milliken Fox 5 Television
Terroir Level
Our most popular presentation, this wine tasting presents bottles of three iconic wine varietals, selected by Chris to demonstrate the different terroirs, bouquets and taste profiles from three different wine regions in the world. Three .375 half bottles of wine are paired with cheese and meat charcuteries selected by Chris and the Chef (both Wine Spectator Award winners) to maximize the flavor profile of the corresponding wine. Costs begin at $110 per package ( for two people)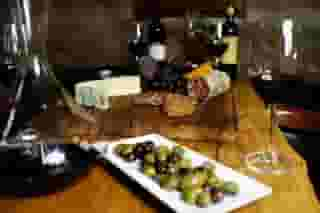 Premiere Level
Want to experience a higher level? With the Premier Tasting, Chris selects three .375 bottles of wine that have been recognized by sommeliers and critics to be world class with scores of very high numbers. These small jewels are considered to be among the finest representations of their varietal and terroir that you can taste. In almost every circumstance, this will be at least two European (French and Italian) varietals and one American. They will be paired with cheeses and meats selected especially for these wines. Costs begin at $175 per package (for two people). For more info, write Chris at cdterra@yahoo.com.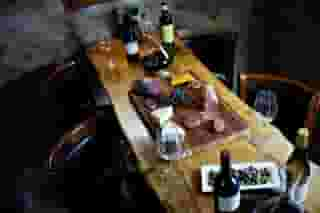 Grand Level
Ideal for a group of four or more gathered in one location, this tasting includes 3 full bottles (750 ml) of three extraordinary wines that are very difficult to find, even in fine wine shops. They are selected for their achievement by the world's best wine critics and their ability to deliver excellent taste profiles of their varietal. We pair these wines very carefully with the proper cheese and meat selections to further bring out their brilliance. It is an evening of fine wine and culinary experience. Costs is $575 (for 4 people)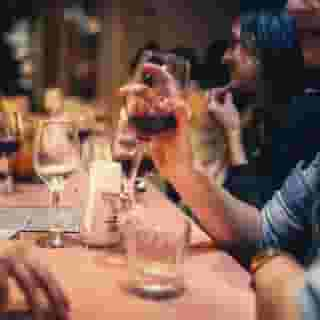 In-House Wine Dining: At Your House! We Come To You
Imagine finishing your cocktails in your living and room and being called to dinner by our sommelier, who is in your kitchen, (with a mask) decanting the wines for the evening for the 3-course gourmet meal our Chef has prepared. Such an evening is possible with our Chez Wine Dinner program. The evening includes a 3-course meal prepared by our AAA 4 -Diamond award winner Chef Charles Zeran, paired with three extraordinary wines selected by our sommelier, Chris, who along with one of our waiters, will handle food and wine service in your home --while you and your guests enjoy a restaurant evening out at home. Costs vary based on wine selection, but evening starts at $725 for four people and $850 for 6 people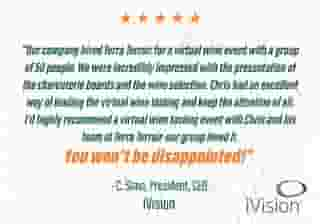 Company Virtual Wine Tastings
Terra Terroir can host your company's virtual cocktail hour for as few as 10 -or as many as 50 people. It is as unique way of at-home employees to stay in touch with their cohorts in a safe and fun manner. Drinking world class wine on line and sharing insights-business or otherwise-is a way of keeping the lines open. Email us at cdterra@yahoo.com for more info.